the jazz guy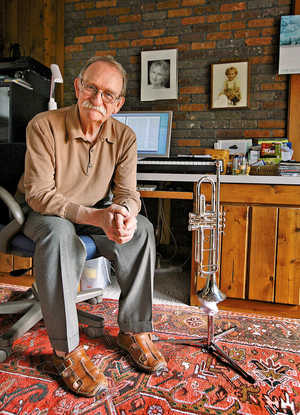 Dick Goodwin's jazz endeavors cannot be described in a few words. That reflects Dick's experience as a performer, in the US, Latin America, and Europe.
"We found while touring extensively in Latin America audiences have many expectations when they attend a 'jazz' concert. So we started programming a wild variety of styles, everything from Dixieland to our own compositions. We have carried that practice with us in our recordings and have found that even hard-core jazz fans will embrace a lot of different kinds of music—as long as it is honest and well played."
As a coordinator of live music groups for many public and private occasions, Dick strives to understand his customers' desires for music and find the right tunes and arrangements for them.
Dick is also co-owner of G.E.M. Recordings, a state-of-the-art recording studio where he composes, arranges, produces, and performs on projects ranging from jingles, to film scores, to albums by various artists. He is a regular faculty member for the Kerrville Folk Festival Songwriter's School and has been featured on the Festival as a performer and composer/arranger.
Please use the links you'll find below our audio clips to find out more about The Jazz Guy.